WELCOME!  
The Mariemont Preservation Foundation (MPF) is dedicated to fostering an appreciation of the unique qualities of the Village of Mariemont, which is located 10 miles east of Cincinnati, Ohio
MPF seeks to reaffirm the principles of town planning that made Mariemont a "National Exemplar" which earned it a place on the National Register of Historic Places in 1979 and National Historic Landmark status in 2007.
In Memoriam – Millard F. Rogers, Jr.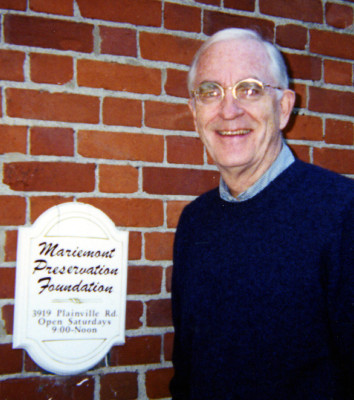 Millard Rogers became a Trustee of the Mariemont Preservation Foundation in May 1981, just a few months after its inception in Dec. 1980. He served many years as President during his 33 years on the Board of Trustees.  Prior to the formation of the Mariemont Preservation Foundation, Millard had been actively involved in the preservation of our historic community and was instrumental in placing Mariemont on the National Register of Historic Places in July 1979. During his tenure as MPF Trustee he organized numerous lectures on town planning and historic preservation by prominent speakers. He authored three significant books, John Nolen and Mariemont – Building a New Town in Ohio, Rich in Good Works – Mary M. Emery, and Mariemont-A Pictorial History of a Model Town.  He co-chaired the 75th Anniversary Committee raising over $650,000 to fund major enhancement projects in Mariemont. A major accomplishment was his tireless efforts in attaining National Historic Landmark status for our Village, ensuring and protecting the historic integrity of our community for the benefit of all future residents of Mariemont for generations to come.