WELCOME!  
The Mariemont Preservation Foundation (MPF) is dedicated to fostering an appreciation of the unique qualities of the Village of Mariemont, which is located 10 miles east of Cincinnati, Ohio
MPF seeks to reaffirm the principles of town planning that made Mariemont a "National Exemplar" which earned it a place on the National Register of Historic Places in 1979 and National Historic Landmark status in 2007.
FLY THE FLAG ON FOUNDER'S DAY – APRIL 23RD
Take advantage of this SPECIAL OFFER – purchase the official
Village of Mariemont Flag by April 23rd and receive $5:00 off the Regular or MPF Member price.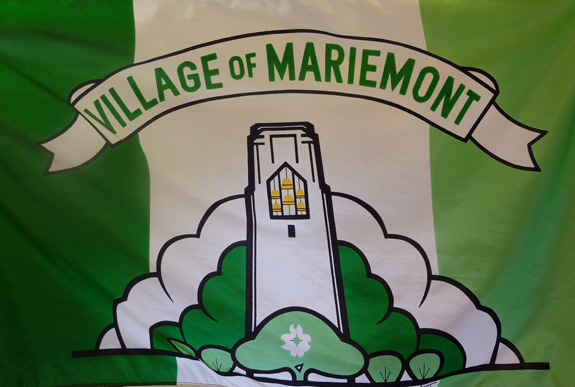 Mary Emery turned the first spadeful of earth at the historic groundbreaking ceremony on April 23, 1923, to begin construction of her vision for a planned community.  Celebrate this momentous occasion by flying the MARIEMONT VILLAGE FLAG on April 23.
You can purchase your flag on-line  by Clicking here to order! or from the MPF Building, 3919 Plainville Road (open Saturdays 9 AM-noon)