WELCOME!  
The Mariemont Preservation Foundation (MPF) is dedicated to fostering an appreciation of the unique qualities of the Village of Mariemont, which is located 10 miles east of Cincinnati, Ohio
MPF seeks to reaffirm the principles of town planning that made Mariemont a "National Exemplar" which earned it a place on the National Register of Historic Places in 1979 and National Historic Landmark status in 2007.
As part of the 75th ANNIVERSARY CELEBRATIONS, the Mariemont Preservation Foundation is organizing some special events.
PIE AND CAKE BAKE-OFF!
In honor of the 75th Anniversary of Mariemont's Incorporation as a Village, Mariemont Preservation Foundation (MPF) is proudly sponsoring a Homemade Pie and Cake Bake-Off at the 75th Anniversary Celebration at the Bell Tower Park on Sunday, July 3.
*Please enter! 
Simply email:  Marcy Lewis (mgetoorlewis@gmail.com) with your name, contact info, and name of your entry by Friday, July 1. Multiple entries are allowed!  Make a pie, a cake, …or BOTH!
*$75 Gift Certificate awarded to one Grand Prize Pie Winner and one Grand Prize Cake Winner.
*Award Ribbons for 2nd, 3rd, Honorable Mention, "most original" and "most attractive presentation" in both categories.
*Grand Prize winners will be given an opportunity to share their recipes in an upcoming issue of the Town Crier. All winners will be recognized in the Town Crier, Mayor's Bulletin and MPF publications, if they so desire.
*Drop off your entry at the MPF table at the Bellower Park at the 75th Anniversary Celebration,  Sunday,  July 3rd BY  2:00 pm.  Judging will start promptly at 2:30pm.
*Judges include Mayor Dan Policastro, Town Crier Editor Claire Kupferle, and Police Chief Rick Hines
*PLEASE SUBMIT HOMEMADE ITEMS ONLY!
Recipes may include mixes, pre-made frostings, etc.
NEWS RELEASE!
The 2016-2017 VILLAGE OF MARIEMONT DIRECTORY AND VILLAGE GUIDE is now available !
FLY THE FLAG ON FOUNDER'S DAY!
It was on April 23, 1923, that Mary Emery turned the first spadeful of earth marking the groundbreaking ceremony for the construction of her visionary new town.
Show your pride in Mariemont!  Fly the official Village of Mariemont flag to celebrate FOUNDER'S DAY April 23.  Don't have a flag?  – No problem! You can purchase one right here and have it delivered to your door!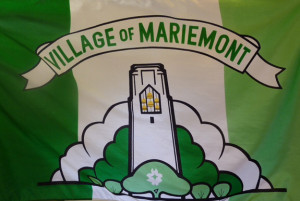 Flags are also available by visiting the Mariemont Preservation Foundation, 3919 Plainville Road (open Saturdays from 9-Noon)
$35.00 MPF Member Price
$39.00 Non-member price